Self Defense is an accumulate set of techniques, principles and methods design to survive general situations of danger within society. This ranges from protecting one self from others, avoid confrontations and being able to get out of harms way safely. Whilst Self Defense is incorporated throughout traditional martial arts programs, it is possible for select courses with specific objectives to be held in order to pass on basic yet practical techniques in a short time. Self Defense for beginners, for women, children but also advanced programs for security guards or armed forces are such examples of bespoke approaches.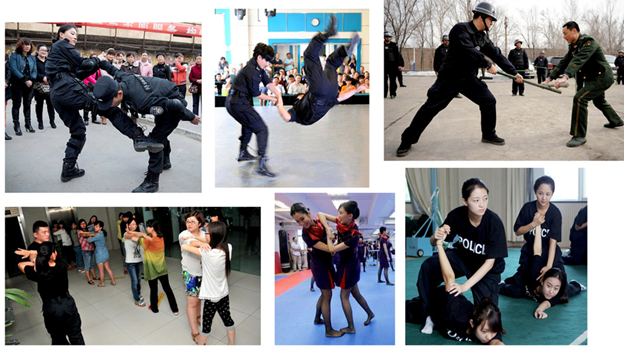 The programs for self defense leverage heavily on qin-na (grappling/locking) methods and their counter release (Fan Qin-na), they also include techniques in dealing with common weapons such as bottles, knives, sticks and furniture as examples that might be involved in an altercation. In scenario based hands on approach self defense programs allow participants to prepare themselves both mentally and physically for a bad day. The Taiping programs are especially modeled from those of the Chinese Public Security Bureau (Gong'an), Private Security Bureau (Bao'an) and Armed forces.
Real world practical methods are the focus of the program with the objective being specifically self-defense or restraining an opponent (as opposed to a comprehensive destructive combat approach) and it includes both tactics, techniques and principles of self defense, negotiation techniques and conflict resolution and survival tactics.  Some programs would also focus on controlling an opponent (especially necessary in security or law enforcement) and seizing or securing them (with minimal damage).